After the cabinets in your kitchen, the countertops are the most prominent aspect of any kitchen remodel, and as such, deserve careful consideration when you choose the countertops for your kitchen. You have many choices in countertops, both material, and color.
If you are looking for a kitchen countertop contractor, then you can browse Renaissance Stone Works.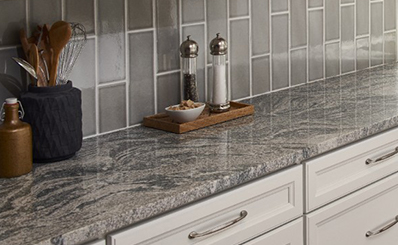 Countertop Material Choices
Traditionally, Formica or laminate countertops were your only choice for countertop material. Today you have many more choices for countertop material, both natural and manmade. Natural materials, such as granite, quartz, and hardwoods are very popular, and add a touch of elegance to your kitchen.
Granite, especially, offers visual interest and style to your kitchen and is one of the most popular countertop materials in use today. It is very durable, easy to maintain, and will last a lifetime.
Quartz is extremely hard, non-porous, and very elegant. Hardwood countertops are very beautiful, do require a little more upkeep, and are more forgiving to dishes if they are dropped on wood countertops, than granite or quartz.
Manmade materials include laminates, Corian, tile, and concrete. Laminates are inexpensive and durable, though they can be scratched or burnt relatively easily.
Corian countertops are extremely durable, more costly, and are an attempt to mimic a natural stone look for a more affordable price. Tile has been used for centuries and is a popular choice in European and South American kitchen designs. If one tile is damaged it can be removed and replaced without having to replace the whole countertop.